Learn how to make a strawberry smoothie that's packed with protein and healthy fats to help keep you full until your next meal or snack. Perfect for kids and adults.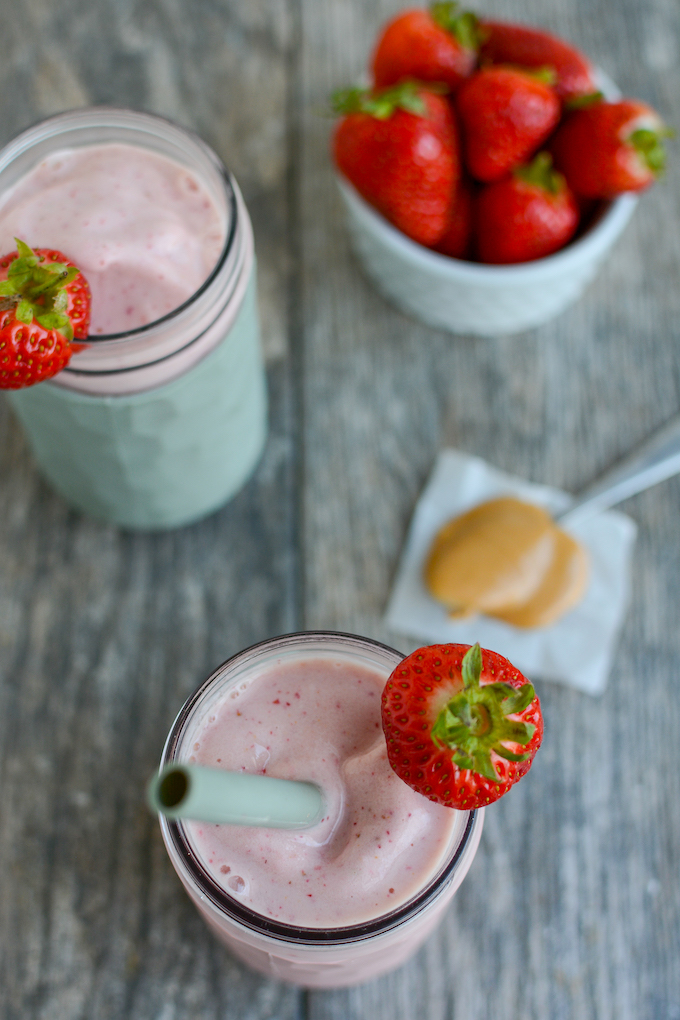 We are big fans of smoothies in our house. They are easy to make and a great way to pack a lot of nutrients into a meal or snack. Plus they're easy for almost anyone to eat, from toddlers to adults and can be enjoyed any time of day.
What is a strawberry smoothie made of?
Most strawberry smoothies are made with frozen fruit like frozen strawberries and bananas, a liquid such as milk, water or orange juice, and sometimes yogurt or other mix-ins like nut butter or vegetables.
How To Make A Healthy Strawberry Smoothie Step By Step
Over the past year, my oldest son and I have perfected a recipe that both of use love. We use frozen pineapple and strawberries, plus milk for protein and a scoop of peanut butter for healthy fats. We also add a scoop or two of protein powder but when he was younger, I added hemp seeds for protein instead.
Here's what we do:
Add milk to the blender (and orange juice if using)
Then add frozen fruit.
Add peanut butter and protein powder if using.
Blend until smooth.
Top with nuts/seeds/cereal etc for crunch if desired.
---
Watch my 8-year-old make a strawberry pineapple smoothie:
How to make a strawberry smoothie
Here's the exact recipe we use, although once you make it a few times you don't need to measure. Smoothies are very forgiving and usually don't require exact measurements.
---
Print
Easy Strawberry Smoothie Recipe
Learn how to make a strawberry smoothie that's perfect for both kids and adults and packed with protein and fiber.
2

–

2.5

cups frozen strawberries and pineapple

1 cup

milk
splash of orange juice, optional

2 Tbsp

peanut butter

2

scoops protein powder (or

1/4 cup

hemp seeds)
Instructions
Add all ingredients to blender and blend until smooth.
Serve immediately or pour into mason jars and freeze.
When ready to serve, microwave for 45 seconds.
Notes
Add more milk or orange as needed if it doesn't blend easily
Feel free to customize with your favorite frozen fruits, swap Greek yogurt for some of the milk or add in some frozen vegetables.
---
FAQ's About How To Make A Strawberry Smoothie
How To Boost Nutrition of a Smoothie
If you're looking to add healthy fats, any nut or seed butter is a great addition. Or add some avocado!
Hemp seeds, chia seeds or ground flax blend seamlessly into smoothies and offer a boost of heart-heathy omega's
Add protein with a scoop of protein powder, silken tofu or some plain Greek yogurt.
Add more nutrients by blending in some veggies – baby spinach (especially frozen ahead of time), steamed cauliflower or zucchini or even beets).
You can also add nutritious mix-ins when serving, like pumpkin seeds or cereal for a little crunch!
Do you put milk or water in a smoothie?
You can make a smoothie with whatever liquid you'd like. I prefer milk or water because it adds protein to the smoothie. For a dairy-free alternative you can use soy, almond, oat or other plant-based milk alternatives.
Are smoothies made with milk or yogurt?
You can use either, although if you choose yogurt you will need to add some sort of liquid like water, milk or juice to the smoothie to help it blend. Plain Greek yogurt adds protein and a bit of tanginess. You could also use vanilla or other flavored yogurt.
How do you make a smoothie thicker?
The simple answer is use less liquid. But be careful not to use too little liquid or you will burn out the motor on your blender trying to blend. Adding frozen bananas, yogurt or avocado can help thicken a smoothie as well, along with frozen vegetables like cauliflower or even silken tofu.
What to do with leftover smoothie?
If you have smoothie leftover, you can freeze it! Just pour into glass mason jars and freeze. When you're ready to serve, microwave about 45 seconds and stir!
You can also pour extra smoothie into popsicle molds for a fun treat!
---
---
Healthy Smoothie Recipes for kids
Want more smoothies to try? Here are a few ideas:
---
Kids can start safely making smoothies from a young age as most of it is just dumping and pouring ingredients into a blender. Pouring or spooning into cups is also a great way for them to practice their coordination!
If you haven't already, give this strawberry smoothie a try!
Tell us your favorite smoothie combo so we can try it!